A Message From Sharp's Calculator From 41 Years Ago
Sharp has manufactured and marketed calculators since 1964, making this the 56th year we introduce this product. 4 years prior to this introduction, Sharp's color TV sales soared, and our business rapidly grew. This was when our young engineers proposed to the management to start development of  computers and semiconductors as the next business of our company.
A new research room was arranged by the company for these amateurs in the computer field. There, they started learning from scratch and finally created the world's first full-transistor diode electronic desktop calculator <CS-10A>.
The calculators business soon emerged into a large scale development with many other competitors entering the business, and small-sizing with IC development realized. Sharp was later recognized by Institute of Electrical and Electronics Engineers (IEEE), a worldwide electrical and electronics engineering society, with an IEEE Milestone for its pioneering work on electronic calculators in 2005.
The first calculators exported to the world was to the United States in 1966. Sharp's major product at that time was radios, and did not have sales routes for office supplies, so the salespersons started from calling retailers one by one looking up a phone book. Our calculators were well recognized in the world as well, and has been used by many of our customers ever since.
Here, we would like to introduce a story of one our customers in South Africa using Sharp's calculators for over 40 years.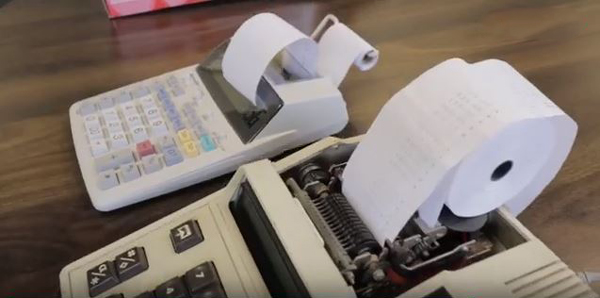 This customer was using a Sharp printing calculator <CS-1164S> which was introduced in the late 1970s. Printing calculators are in common use overseas for tax return calculation etc., since the calculations can be printed immediately. This customer was also using our product for his business for a long time.
One day, the customer realized the cover was missing from his calculator, and searched all around Johannesburg but in vain. Finally he decided to contact us at Sharp Japan, but unfortunately due to its long age, we did not have that particular part available. In return, Sharp Middle East Free Zone Establishment, our sales subsidiary in UAE, heard of this story, and in return to express our gratitude to the customer's loyalty for over all these years delivered a new calculator instead.
Below is a video of the customer explaining this episode together with his precious thoughts about our long-lasting products.

YouTube video with our customer (1'33")
It is always an honor for us to have our customers purchase our products, and it equally makes us proud to hear our products are being in use for such a long period of time. This story reminds us once again for what we stand for. We hope the new calculator will continue to serve our customer for a long time.