Message from the President & CEO
We will execute management emphasizing on ESG and aim to quickly establish a strong brand company "SHARP"
I'm Robert Wu, the new president and CEO since April 2022.
This year marks the 110th anniversary of Sharp's founding in September 1912. I thank all of our stakeholders who have supported us over the years.
Since 2019, the world has plunged into an unprecedented crisis caused by the Covid-19 pandemic. Thanks to progress in many areas—vaccination rates, changes in behavior, and the accelerated use of IT in various fields—we are seeing new ways of life in which we coexist with the virus. Yet there are still many problems the global community must unite to resolve, such as climate change, human rights, and geopolitical issues.
Against this backdrop, Sharp will place further emphasis on ESG in our corporate management. And by helping to tackle important issues, we will raise Sharp's social value and brand value so that we can quickly establish a strong brand company "SHARP."
Specifically, under its business vision of "Changing the World with 8K+5G and AIoT*1," Sharp is working to create innovative services and solutions in eight priority business areas—smart homes, smart offices, healthcare, entertainment, education, industry, security, and mobility. Going forward, we will further accelerate our efforts to strengthen our healthcare-related business and contribute to carbon neutrality.
In addition, we will implement HITO-based management to create a young and lively corporate culture. We will also speed up management reforms from a global perspective to grow Sharp into a true global company that meets the needs of people not only in Japan but around the world.
*1

AIoT is a word coined by Sharp, combining the words AI (artificial intelligence) and IoT (Internet of things). AIoT is a vision of how products and services will connect to artificial intelligence via the cloud and become a people-oriented existence. AIoT is a registered trademark of Sharp.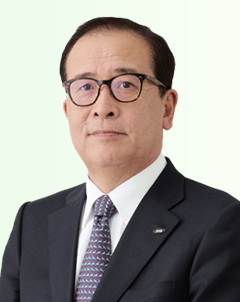 At the same time, we recognize that various social issues represent a major risk to the sustained development of our business. That is why we will continue our efforts to strengthen sustainability.
Specifically, in July 2022, we established the ESG Promotion Division, which plays a central role in company-wide sustainability and GX (green transformation) strategies. We have formulated new medium-term environmental goals for 2030 and 2035 to realize our SHARP Eco Vision 2050 long-term environmental vision. We have also declared support for the TCFD*2 recommendations, and we will expand climate change-related information disclosure in accordance with the framework set by the TCFD.
As a signatory to the United Nations Global Compact since 2009, Sharp continues to support the 10 Principles in the areas of human rights, labor, the environment, and anti-corruption. We also share the vision and mission of the RBA*3, which we joined in 2021, throughout the entire Sharp Group. In this way, we will accelerate our efforts to effectively resolve global social issues.
Sharp's business philosophy states, "Our future prosperity is directly linked to the prosperity of our customers, dealers, and shareholders...". With this in mind, we will continue working with all stakeholders to provide solutions to social issues through business and mitigate impacts on society and the environment. Doing so will enable us to achieve the SDGs and thereby help realize a sustainable and better world where no one on Earth is left behind.
*2

The Task Force on Climate-related Financial Disclosures (TCFD) was established by the Financial Stability Board (FSB), an organization promoting international financial stability. In 2017 the TCFD released recommendations for companies to disclose information on the risks and opportunities of climate change.

*3

RBA: Responsible Business Alliance—a nonprofit organization that pursues social responsibility across the global supply chain. The RBA formulated and announced the RBA Code of Conduct.
October, 2022