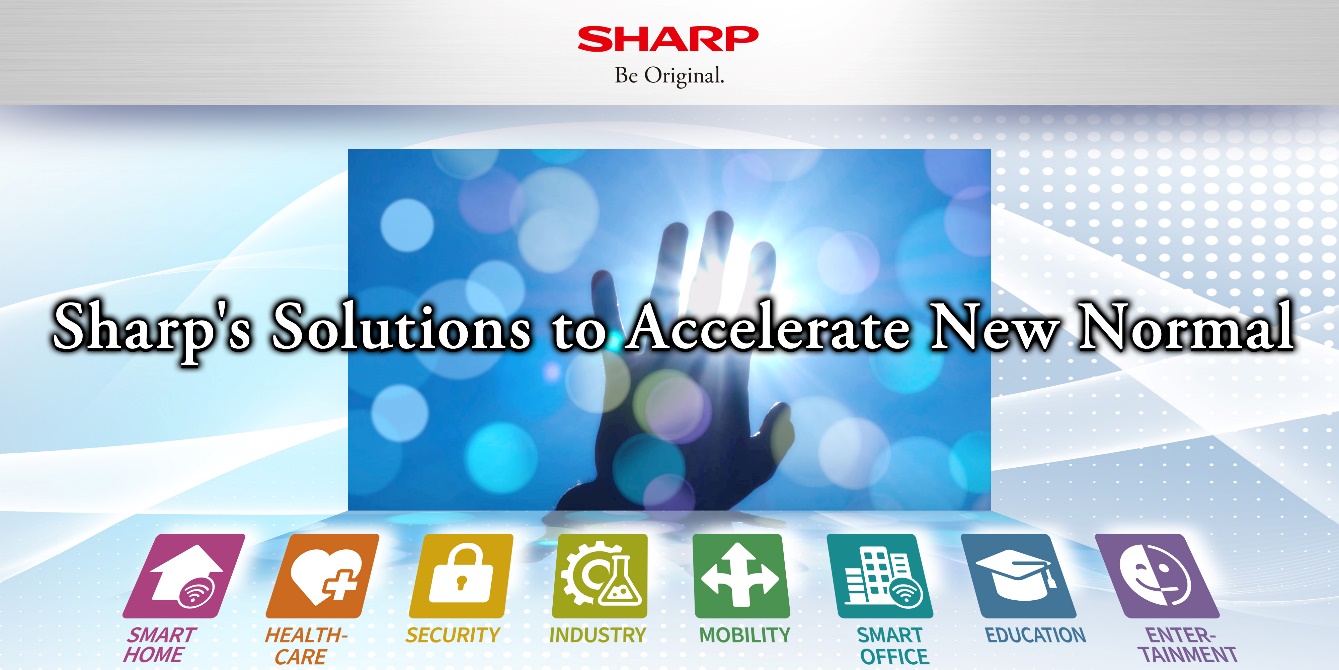 Design of home page for the Sharp booth for CEATEC 2021 Online*1
Sharp Corporation will be exhibiting at CEATEC 2021 Online to be held via the Internet from October 19 to 22 (Tuesday to Friday).
Reflecting the need to prevent the spread of COVID-19, this year's CEATEC will, as it was last year, be held online. Under the theme of "Sharp's Solutions for Accelerating the New Normal," we will introduce initiatives in three categories: New Normal Solutions, Core Technologies and Devices to Support the New Normal, and Digital Community Development in the New Normal Era.
Online visitors to CEATEC can see how Sharp's vision of "Changing the World with 8K+5G and AIoT*2" will enable smart life scenarios and the transformation of business settings, and how Sharp technologies and services will help realize the SDGs. They can also experience Sharp's solutions in support of businesses such as health and wellbeing, medical treatment, and long-term care.
Note also that some of the items that could not be presented on the CEATEC 2021 Online exhibition channel will be introduced in the e-Showroom on our website . We encourage you to take a look.
Location of Sharp Booth: Corporate Area
Exhibition theme: Sharp's Solutions for Accelerating the New Normal
Exhibit contents:
1. New Normal Solutions
2. Core Technologies and Devices to Support the New Normal
3. Digital Community Development in the New Normal Era
*1 Some designs, etc., are under development and may differ from the final design.
*2 AIoT is a word coined by Sharp, combining the words AI (artificial intelligence) and IoT (Internet of things). AIoT is a vision of how products and services will connect to artificial intelligence via the cloud and become a people-oriented existence. AIoT is a registered trademark of Sharp Corporation.
Exhibit Highlights
1. New Normal Solutions
•Medical care/healthcare, entertainment
• The MH-L1-B Medical Listening Plug wireless in-ear hearing aid was developed for people with mild to moderate hearing loss and is certified as a "controlled medical device" under Japanese law. Linked to smartphones, it offers professional remote, one-stop support. Users get all the support they need right from their homes, starting with fitting of the device that includes initial settings using a hearing check and minor adjustments to hearing levels, all the way to after-sales service. It's a new type of hearing aid that minimizes the time users need for store visits, and thus also reduces worries associated with face-to-face meetings.
• The 120-inch 8K monitor has one of the largest LCD screens in the industry*3 and adds dynamic, real-life images to a range of applications. Visitors to the Sharp booth can also see an 8K Ecosystem, which combines a 32-inch 8K Color Management Display and the 8K Image Editing PC System from Dynabook Inc. for the creation and editing of images. There's also the 32-inch 8K Color Management Display used as a WSI (whole slide imaging) system display for fields such as cell study and pathology.
• Next-generation display technology dramatically improves brightness and contrast using mini LEDs for display backlighting. Through high-density installation of LEDs and distribution into over 1,000 areas, and control of the mini LEDs through linking with the images displayed, TV image quality can be further improved.
*3 As of October 1, 2021; for displays comprising a single 8K LCD panel; based on Sharp research.
•Work styles, lifestyles
• COCORO OFFICE is a one-stop smart office service covering everything from product/service introduction to operation in order to respond to today's diversifying work styles and to improve job efficiency.
• From Dynabook Inc., visitors can see Easy Telework, a one-stop DX solution for creating a remote work environment that links work sites, homes, and offices; and Job Canvas, a solution for visualizing work styles. There's also dynaEdge Solution, an evolution in on-site DX platforms, which combines the dynaEdge DE200 and the newly developed dynabook Edge AI engine to boost on-site job efficiency and productivity.
•Logistics, production
• The Sharp booth will feature a reference exhibit of the Next-Generation Robot Warehouse Solution. Everything from storage to picking and transport of stored products is automated, bringing labor savings and greater productivity. The centralized system at the core of this solution allows for the integrated control of up to 1,000 transport robots.
2. Core Technologies and Devices to Support the New Normal
•Non-contact/remote communications
• The newly developed Static Hover Touch Display gives non-contact operation of touchscreens. Users need only hover their finger above the display to operate it. The product meets the growing need for non-contact solutions, such as screens for checking in, ordering, or getting information in facilities such as restaurants, public facilities, and commercial complexes.
• The Built-in Microphone Speaker System allows a person's voice to be heard clearly, even if they're wearing a mask or are behind a partition. Proprietary voice processing makes the person talking easy to hear. To ensure hygiene and user peace of mind, the product can be easily cleaned with commercially available disinfectant wipes.
•Devices and technologies (electronic components, devices)
• Visitors can see the new, improved version of the Transparent Display Partition, winner of the Grand Prix in the New Normal Solutions category of the 2020 CEATEC Awards. The highly transparent display works as a partition that shows information. Since the display itself does not emit light, it is suitable for a range of different spaces and provides all new value as a way to boost communication and improve the look of interiors.
The Transparent Display Partition will be shown in unison with products such as the Static Hover Touch Display and the Built-in Microphone Speaker System, as part of Sharp's Touchless/Contact-Less Solution.
•Devices and technologies (AI, communications [5G], security)
• The Sharp booth will include the Drone Solution for Inspections, which takes aerial images using a drone as a way to support maintenance and inspections for today's changes in the way people work; Smart Maintenance Solution, which realizes remote confirmation and automatic inspections of construction sites and infrastructure through image processing; and Pipe Inspection Solution for inspecting and measuring the presence and degree of cracks in tunnels and underground pipes.
3. Digital Community Development in the New Normal Era
•Technologies and services for smart cities and achieving the SDGs
• The COCORO ENERGY HEMS cloud service uses AI for smart, automatic control of residential solar power systems and storage batteries. With the world focusing more and more on becoming carbon neutral, the service offers a new lifestyle for improving self-consumption through more efficient use of electricity generated at home.
Sharp is also promoting an energy self-consumption service using the PPA*4 model that makes it possible for newly built homes, large factories, and commercial facilities to incorporate a solar power system with no initial investment. The service will help accelerate the spread of renewable energy and contribute to the realization of a sustainable society.
*4 PPA: Power purchase agreement. Also called the TPO (third-party ownership) model.