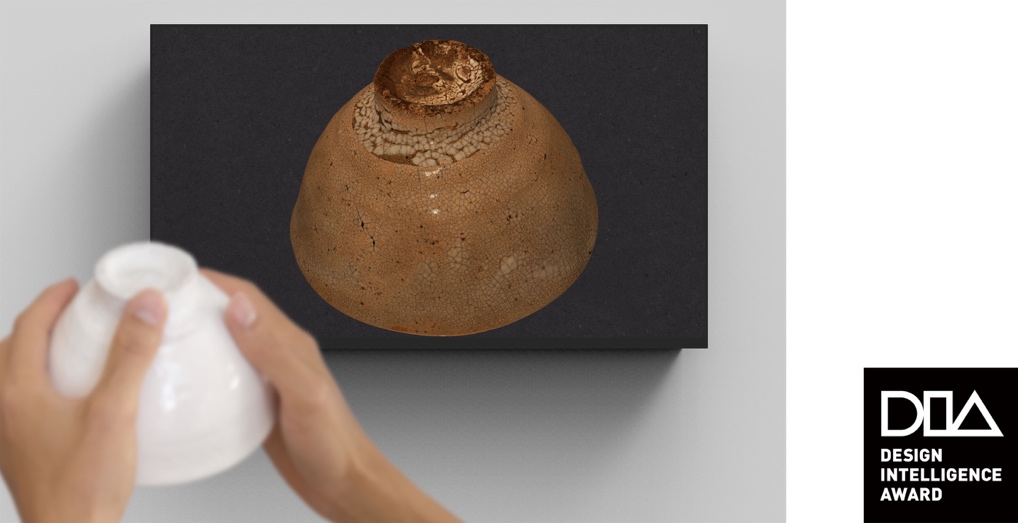 Sharp Corporation is proud to announce that its 8K Interactive Museum*1 solution, "A Hands-On Look at Legendary Tea Bowls" comprising a tea bowl-shaped controller, has won a 2021 Design Intelligence Award (DIA). This innovative solution was jointly developed by Sharp, the Tokyo National Museum*2, and Japan's National Center for the Promotion of Cultural Properties*2. The 8K Interactive Museum tea bowl system won in the Product category*3, which targets prototypes and new products launched within the past two years.
The DIA is an international design awards program founded in 2015 by the China Academy of Art (based in Zhejiang Province), China's leading arts and design education and research institute. The awards program is run by the Academy in cooperation with design organizations from 11 other countries, including Japan. In 2021, the DIA drew around 8,000 entries from 61 countries.
Sharp's award-winning solution uses high-resolution 8K technology so that people can experience valuable cultural properties that usually cannot be touched. It offers museum visitors a new way to appreciate works of art by combining a tea bowl-shaped controller with a high-resolution 8K display. The tea bowl-shaped controller has the same shape, size, and weight of the actual museum piece. By holding the controller in your hands and intuitively maneuvering it, you can freely rotate or enlarge the tea bowl shown on the 8K display and view the item from any angle you like. It reveals every aspect of the art by letting you view the inside or even the underside of the bowl—something that is not possible in conventional exhibits. Using the tea bowl-shaped controller is like holding and looking at the actual museum piece in your hands.
Sharp remains committed to offering new experiences and solutions that make the most of 8K to realize its business vision of "Changing the world with 8K + 5G and AIoT."
*1 Find out more about the 8K Interactive Museum joint development (in Japanese). https://corporate.jp.sharp/news/200701-a.html
*2 Members of Japan's National Institutes for Cultural Heritage.
*3 Other than the Product category, the DIA has a Concept category targeting designs in the pre-manufacturing/launch stage.