Business Philosophy and the SDGs
In 1973, Sharp put into writing its business philosophy, which says the company will "contribute to the culture, benefits and welfare of people throughout the world" and that "our future prosperity is directly linked to the prosperity of our customers, dealers and shareholders." These and other vows of the business philosophy share the aims of the Sustainable Development Goals (SDGs), which the UN enacted in 2015.
Through its business philosophy, Sharp aims to contribute to the achievement of the SDGs both by providing solutions to social issues through its business and by reducing burdens on society and the environment through SER* measures, thus helping realize a better, more sustainable world in which no one on our Earth is left behind.
*

SER: Social and environmental responsibility.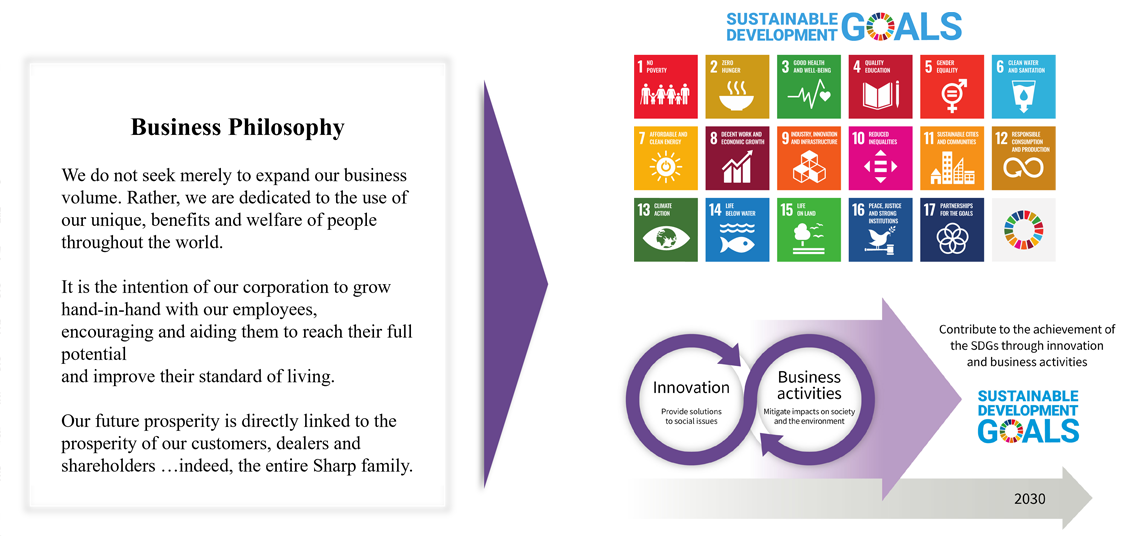 Eight Priority Business Areas Focused on Addressing Social Issues
In line with its business vision of "Changing the world with 8K+5G and AIoT*," Sharp has worked to create an 8K+5G ecosystem, develop 5G-related business, expand its COCORO LIFE services, and strengthen its cloud services in order to move beyond business that revolves solely around hardware and devices and towards more innovative systems and solutions-focused business integrating hardware, software, and services. The aim of this business innovation is to offer the world new value as "One Sharp," which helps to address the issues facing the international community.
Each business unit and affiliated company is working to bolster Sharp's efforts not only in those business areas where it is already successfully established, namely smart homes, entertainment, and smart offices, but also in healthcare, education, security, industry, and mobility-related areas. In each of these areas, Sharp's business units and affiliated companies seek to balance business expansion with addressing social issues in such a way that will contribute to the achievement of the Sustainable Development Goals (SDGs) adopted by the United Nations in 2015.
*

AIoT is a word coined by Sharp, combining the words AI (artificial intelligence) and IoT (Internet of things). AIoT is a vision of how products and services will connect to artificial intelligence via the cloud and become a people-oriented existence. AIoT is a registered trademark of Sharp.
Contributing to the SDGs through Business
< Smart Life > Smart Appliances & Solutions BU
Offering support through AIoT
*1

for a safe, healthy, and comfortable lifestyle.
Yielding a smart life for the near future through people-oriented AIoT.
In our aim to help create a healthy and comfortable life, Smart Appliances & Solutions BU supplies end consumers and B2B customers globally with a variety of appliances, such as air conditioners, refrigerators, washing machines, microwave ovens, and air purifiers.
We offer users a safe, healthy, and comfortable lifestyle in a variety of ways by applying AIoT to conventional household appliances to match lifestyles and preferences, such as proposing healthful food recipes, ensuring safe and comfortable indoor air environments, and helping make work more rewarding by reducing household chores. We also strive to realize smart homes that integrate AIoT and storage batteries that further the use of renewable energy. These efforts help us contribute to Goals 3, 8, 9, and 13 of the SDGs.
Further, we carry out ongoing eco-friendly practices at the development stage, such as the development of low-power-consumption technology, low-resource-use design, and the active use of recycled plastics using our closed-loop material recycling technology*2, in which products are recovered and their plastics are 100% recycled and reused multiple times in making new home appliances. In the production stage, we establish numerical objectives for each factory and work to achieve them in an effort to reduce the consumption of electricity and gas by the factories and reduce the volume of waste produced, thus contributing to Goals 9, 12, and 13 of the SDGs.
Towards Goal 6 of the SDGs, our proprietary hole-less tub washing machines save water and reduce water pollution, while our water purifiers provide users with clean, safe water.
Our electronic dictionaries contribute to Goal 4 of the SDGs.
Smart Appliances & Solutions BU will continue to develop AIoT-driven technologies and use unique creativity to develop eco-friendly products, thus bringing customers a safer, healthier, and more comfortable smart life.
*1

AIoT is a word coined by Sharp, combining the words AI (artificial intelligence) and IoT (Internet of things). AIoT is a vision for making products and services more integral to people's lives by connecting them via the cloud using AI. AIoT is a registered trademark of Sharp.

*2

Jointly developed by Sharp and Kansai Recycling Systems Co. Ltd., an appliances recycling company invested in by Sharp and five other companies.
< Smart Life > Sharp Energy Solutions Corporation (SESJ)
Providing eco-friendly, energy-producing solar power systems to countries around the world to help solve the pressing energy challenges we face. Making life easier with energy solutions (systems and services) that make smarter use of electricity.
Sharp's history of achievements in solar power systems goes back more than six decades to 1959, beginning with the words of founder Tokuji Hayakawa: "If we could find a way of generating electricity from limitless solar heat and light, that would benefit humankind to an extent we can scarcely imagine."
SESJ has kept to these words and continues to work consistently from development to sales, installation, and after-sales service in its domestic and overseas energy solutions business to contribute to achieving the SDGs.
Specifically, the expansion of installations of solar power systems on rooftops of housing and factories and mega-solar projects help us achieve goals 7 and 13 of the SDGs.
In an aim to promote the use of sustainable renewable energy sources, we also develop smart homes that integrate with people-oriented IoT home appliances. We are also creating new solutions, like self-consumption systems that smartly link solar power systems with storage batteries. These help us achieve goals 11 and 12 of the SDGs.
In fiscal 2020, SESJ added to its solar power systems track record by constructing 38 mega-solar power plants in Japan totaling approximately 112 MW-dc in capacity, and five mega-solar power plants in Vietnam and other Asian countries totaling approximately 149 MW-dc in capacity. Also, in Thailand, SESJ installed solar power systems totaling 5 MW-dc on the rooftops of two plants of MinebeaMitsumi Inc.
Meanwhile, in collaboration with TEPCO Ventures Inc., SESJ launched a solar power service (on-site PPA*1) for corporate customers, which provides CO2-free electricity at reasonable cost, generated by installing solar power systems with zero upfront investment.
In the residential sector, COCORO ENERGY, a HEMS*2 service that automatically and intelligently controls the recharging of storage batteries according to the amount of surplus electricity*3 generated by solar power systems using AI predictions, won the Agency for Natural Resources and Energy Commissioner's Award at the 2020 New Energy Awards. This service was commended highly for its ability to increase the rate of self-consumption using AI control and for its ability to prevent power outages in response to lightning. This is a world first for a stand-alone HEMS service.
In the transportation sector, SESJ manufactured a car-mounted solar panel with a high capacity of more than 1 kW, utilizing the same cells as the world's top-class high-efficiency solar cell module (conversion efficiency: 31.17%) developed for a NEDO project*4. Nissan Motor Corporation produced an electric minivan equipped with these panels in order to test the technology on public roads. Through these activities, SESJ aims to create new markets for solar panels in the transportation and other sectors and to further contribute to solving the world's energy and environmental issues.
*1

Power Purchase Agreement model.

*2

Home energy management system

*3

The amount of electricity obtained by subtracting power consumption from the amount of electricity produced by a solar power system.

*4

New Energy and Industrial Technology Development Organization
< 8K Ecosystem > Smart Business Solutions BU
Providing smarter office solutions to enable work environments that are safe and secure, and where people can concentrate, thus boosting work efficiency and productivity.
Smart Business Solutions BU solves problems faced by clients by providing them with new added value and services centered on digital MFPs and peripheral equipment such as the BIG PAD e-blackboard and TeleOffice videoconferencing system.
Japan enacted the Work Style Reform Act amidst problems such as a shrinking workforce due to an aging society and low birthrate, and the need to diversify the ways people work. The act has been expanded to cover small- and medium-sized companies. Since enactment, the world has entered a "new normal" brought on by Covid-19, which has created the need to respond to people's changing work styles, including working online from home. As well, many companies, mainly small- and medium-sized ones, are facing problems such as a shortage of IT personnel, the need to procure funding to introduce and run IT systems, and information security.
Up to now, digital MFPs focused primarily on the input/output of paper-based information. However, as work styles diversify, MFPs are transforming into comprehensive business task-support equipment that work better with cloud-based data and aim to create a work environment of optimal efficiency, regardless of the task at hand. In addition to digital MFPs, Sharp offers a wide range of hardware, including display products, PCs, and smartphones all indispensable to office work. We aim to contribute to society by improving workspace environments with total solutions that involve proposals on device usage and business task improvement.
Launched in July 2020, COCORO OFFICE uses an AIoT platform to change office equipment from mere tools to "business partners" that make work styles and efficiency more transparent. By linking various office equipment and the people who use them, it supports varied work styles and brings innovation to the office via diverse, flexible ideas.
Along the journey to create the future we all look forward to, Smart Business Solutions BU will work to respond to the needs of society for improvements to work environments, mitigation of personnel shortages, and increased office productivity. We will not only continue with the technological development of hardware, but also work to optimize service platform and application solutions. In the future, we will go beyond simply improving office information security and task efficiency; we will contribute to the creation of a more pleasant work environment that will form the foundation of our new information society.
< 8K Ecosystem > Smart Display Systems BU and Global Brand-Products BU
Building an 8K+5G Ecosystem and AIoT World through the development and expanded sales of AV products to provide solutions for a more convenient and comfortable lifestyle.
The Smart Display Systems BU and Global Brand-Products BU come out with products offering new lifestyles in audio/video.
Since releasing the world's first ultra-HD-compatible (8K) 85-inch LCD*1 in 2011, we have continued to come out with 8K technologies for exquisite, vivid images. In September 2020, we announced a 120-inch 8K display, among the largest in the world*2.
Measuring 2.66 m x 1.5 m (W x H), the display shows incredibly realistic textures and depth of scenery, making it ideal for signage in commercial facilities such as stores and showrooms, digital exhibits of paintings and sculptures, and public viewings of events.
We are also coming out with new-category products in the field of audio. Our 8A-C22CX1 Theater Bar System announced in August 2020 is the industry's first soundbar*3 to support the 22.2-channel audio input of MPEG-4 AAC, the audio format for NHK BS 8K broadcasts. The Theater Bar System uses OPSODIS*4 3D sound technology, which employs proprietary audio processing to totally envelope the user in sound.
We are also offering COCORO VISION for AIoT-compatible AQUOS TVs, which introduces viewers to information on making life at home more fun. This service recommends video content on a variety of hobby, learning, and health topics that you can easily put to use at home, along with the latest entertainment information on popular TV shows and movies. Users get handy lifestyle information delivered to them on their large AQUOS screens.
We will continue to develop carefully thought-out products to provide solutions for exciting new lifestyles.
*1

For direct-view displays compatible with ultra-HD (as of May 19, 2011; based on Sharp research).

*2

For displays using an 8K LCD panel (as of September 9, 2020; based on Sharp research).

*3

For theater bar systems/soundbars that connect to TVs (as of June 26, 2020; based on Sharp research).

*4

A 3D sound reproduction technology jointly developed by the Technical Research Institute of Kajima Corporation and the Institute of Sound and Vibration Research at the University of Southampton, U.K.
< 8K Ecosystem > Corporate Research & Development BU
By using society-changing, proprietary, world-first, and world's-best technology to build entirely new ecosystems and create and expand new businesses, we are contributing to a sustainable society.
Corporate Research & Development creates proprietary technologies that become the core of new business as it aggressively strives to solve the social issues of a new era through innovative services and solutions that support society's new normal.
An example of a new solution is the triplet-lens camera rebar arrangement inspection system, which Sharp developed in cooperation with a partner company for civil engineering. With an 8K camera and high-precision measuring and image-processing technology, it reduces labor needed for infrastructure inspection, remote inspection, and maintenance work, thus contributing to digital transformation (DX) of construction work.
For municipal governments, we are constructing a new DX platform by doing demonstration experiments in which 8K ultra-detailed images are transmitted in real time using 5G. An example is a drone with 8K camera that makes infrastructure inspections more efficient and saves labor when assessing damage after accidents and disasters.
5G communications hold promise for application in a wide range of industrial fields. Sharp holds 1,497 patent families under the licensing declaration for 5G wireless communication standards (ranked first in Japan, 10th in the world; as of June 2021*).
To help achieve a society where people can live in safety and peace of mind, we are focusing on goals 3, 4, 7, 8, 9, 11, and 13 of the SDGs.
*

Based on research by a third-party institute
< ICT > Mobile Communication BU
Using communication technology to build a society where everyone has an equal opportunity to find decent work and education.
Mobile Communication aspires to be a people-oriented business unit that leverages communication technology to keep on producing new value and providing products and services, such as smartphones, tablets, and various networked products that inspire people around the world to live more joyful lives.
Modern-day Japan is facing a variety of challenges and changes: a diminishing workforce due to low birthrates and an aging population, diversifying work styles to accommodate birth, childcare, and family care needs, and a changing social environment brought on by the global Covid-19 pandemic. These are accelerating work style reforms made possible by telecommuting, remote and non-contact solutions, and the proliferation of DX. On the education front, Japan is stepping up the shift to ICT learning, as exemplified by the GIGA School Program of the Ministry of Education, Culture, Sports, Science and Technology (MEXT). Mobile Communications is advancing communications networks, such as the 5G services that began in the spring of 2020, and developing products and services that use the knowhow built up through our business over the years.
In fiscal 2020, we developed a number of notable products. These include the SH-T01 tablet for corporate users providing convenience and security in situations such as working from home and visiting customers on-site; the Dynabook Chromebook C1, jointly developed using Sharp's communications technologies and Dynabook Inc.'s IT technologies, which helps advance ICT in education, for example in Japan's GIGA School Program, by offering the operability of a normal laptop in a tablet with a folding display; and the SH-52B Wi-Fi Station 5G mobile router for NTT Docomo Inc., which fits in the palm of your hand and serves everyone from business to personal users thanks to its ability to connect to 5G networks and thus make it possible to join online meetings from anywhere, download and send large files, and enjoy video.
Mobile Communications will continue to offer high-value-added products and solutions that free working people from the constraints of time and place, and that pique the interest and fascination children have in learning by creating a mutual and cooperative learning model that allows them to autonomously and cooperatively learn in an easy-to-understand classroom environment.
< ICT > Dynabook Inc.
Dynabook is making people's lives and society better by "changing the world through computing and services," developing "true computing that reflects real needs and that supports communities," and offering "new added value and services developed from the user's standpoint."
Dynabook is a business corporation that develops, manufactures, sells, supports, and services personal computers and system solutions products. With the vision "Changing the world through computing and services," we are pursuing the fusion of hardware ("dynabook as a Computing") and services ("dynabook as a Service") and strengthening the technology that supports this endeavor as we expand our business globally. The contributions of our business and services to the SDGs span across the fields of education, energy, decent work, economic growth, industrial and technological innovation, infrastructure, and recycling.
In the realm of services and solutions, Dynabook is combining computing and cloud services to offer new added value required in today's new normal brought on by the Covid-19 pandemic, which has dramatically changed the way people work and live. With people increasingly working from home, more customers are moving their IT environment to the cloud.
In fiscal 2020, Dynabook launched its "Easy Telework Starter Pack," a one-stop package offering a cloud environment for working from home that features user ID management, the ability to create application usage environments, and maintain security. Using computing technologies accumulated through years as a PC manufacturing company, and knowhow gained by building corporate IT environments, Dynabook is offering the ''Dynabook Cloud Platform & Cloud Service'' for use on the Microsoft Azure* cloud computing service.
In hardware, Dynabook offers a substantial laptop lineup with advanced functions that support customers' changing work styles. The company has released the dynabook V5-in-1 Premium laptop in response to users' need to work without constraints on time and place, and the dynabook K60 2-in-1 detachable PC to facilitate ICT advances in education. By stepping up solution services while keeping firmly grounded in hardware, Dynabook is developing and launching products that that help people live, study, and work better.
To be a company that supports and serves people, Dynabook will continue to face social challenges squarely and propose products and services with new added value that will deliver enhanced quality to communities and individuals through the fusion of "dynabook as a Computing" and "dynabook as a Service."
*

Azure is a registered trademark or trademark of Microsoft Corporation in the U.S. and other countries
< Display Devices > Sharp Display Technology Corporation
Using display technology to build an 8K+5G Ecosystem and AIoT World.

Offering solutions—through high-definition, energy-efficient, environmental durability, high-speed drive technology—to the social challenges of healthcare, education, infrastructure, and self-driving, as they evolve in an AIoT society.
Sharp Display Technology Corporation currently develops, manufactures, and sells display modules for a variety of uses.
Among these, an LCD that utilizes IGZO*1, an oxide semiconductor that we were the first in the world to successfully mass produce*2 in March 2012, is notably characterized by its 1) high definition, 2) high-speed drive, 3) low power consumption, and 4) versatility in design. This LCD technology has found wide applications, including in personal devices such as smartphones, tablets, and laptops, and automotive displays, as well as in industrial equipment and commercial displays.
Ever since the start of the worldwide Covid-19 pandemic in early 2020, our lives have undergone dramatic changes. As our routines adapt to what is being called the new normal, people are using IT networks for both business and daily life as we work, study, get medical care, shop, and make payments online. Amidst this new wave, displays are taking on increasingly crucial roles.
In response to these changes, Sharp is stepping up development of IGZO and other display technologies. We continue to be flexible in meeting the world's many changes and advances. Recent products include the Transparent Display Partition, winner of the Grand Prix in the New Normal Solutions category of the 2020 CEATEC Awards; a low-power-consumption reflective IGZO display that uses ambient light instead of a backlight for the light source; a high-definition 8K display for medical use; and the IGZO OLED display, the first in the world*3 to support refresh rates from 1 to 240 Hz and used in the AQUOS R6 5G-compatible smartphone, which Sharp released in June 2021.
In its quest to build an 8K+5G Ecosystem and AIoT World, Sharp is continuously advancing technologies that meet the world's needs and giving new value to displays. These efforts are aimed at building a prosperous society where everyone can live safely and securely and at advancing a variety of business fields towards achievement of the SDGs.
*1

An oxide semiconductor comprising indium, gallium, zinc, and oxygen

*2

Mass produced through joint development with Semiconductor Energy Laboratory Co., Ltd.

*3

For smart phones, as of May 17, 2021; based on Sharp research.
< Electronic Devices > Sharp Sensing Technology Corporation
Contributing to a safe and secure society by making camera modules that don't just take pictures but also recognize what's in them.
Sharp Sensing Technology develops and markets camera modules and 3D facial recognition modules for smartphones, tablets, and other IT equipment. In 2000 Sharp released the world's first mobile phone with a camera, which was equipped with a camera module developed by Sharp Sensing Technology. The camera module we developed at that time had a resolution of only 0.1 megapixel, but we pursued higher and higher image quality and eventually achieved mass production of a camera module with a 1-inch, 20.2 megapixel sensor in June 2021, which gives image quality equivalent to that of a single-lens-reflex camera.
While the size of the smartphone market has stabilized, products have become equipped with gradually more lenses and higher performance, with the first dual camera model coming out in 2014, triple camera model in 2016, and quad camera model in 2018. The market is forecast to continue growing by 7% annually (market value).
With advances in sensing and AI technology has come the advent of devices with the ability to recognize and distinguish beyond the human eye's ability. In this new and growing recognition sensor market, Sharp Sensing Technology is focusing on the non-contact market necessitated by the persistence of Covid-19. Measures to stop contagions will likely continue for some time, and we intend to meet society's needs with the following technologies.
Technologies for avoiding contact (Applications: Door keys, delivery box keys, electronic payments, etc.)Using individual recognition modules that can distinguish people with high accuracy thanks to facial photos that incorporate 3D data instead of conventional 2D data, build non-contact systems for identifying users without the need for fingerprints or IC cards.
Technologies for avoiding the three Cs (closed spaces, crowded places, close-contact settings) (Applications: Remote training, e-commerce, etc.)
Use virtual reality (VR) technology to show users how to assemble products using 3D product information, and augmented reality (AR) technology to coordinate actual camera images with 3D virtual reality products.
By coming out with solutions that fuse various sensing technologies with camera modules at the core, we are contributing to the realization of a society where people can live in safety and peace of mind.
< Electronic Devices > Sharp Fukuyama Laser Co., Ltd. (SFL)
Laser business: Contributes to the creation of lifestyles for the new normal by developing laser modules that realize VR and AR technologies Semiconductor business: Aggressively expands production capacity in order to contribute to the growth of a semiconductor industry that sustainably supports the foundations of society.
SFL contributes to the creation of numerous products by developing and manufacturing laser devices and modules and carrying out semiconductor wafer foundry business.
Laser business: SFL is the only manufacturer that can provide laser devices in the three primary light colors of RGB*1. It contributes to the creation of new lifestyles by developing and manufacturing, for example, laser modules that make possible colorful, realistic images to use in next-generation displays such as smart glasses*2 that apply VR and AR*3 technologies; and high-powered lasers used for stage lighting and for creating the wiring on circuit boards in 5G-compatible products.
Semiconductor business: As a wafer foundry manufacturer responding to the vibrant demand for semiconductors, SFL develops production processes and expands manufacturing capacity for driver ICs*4 used in LCDs and analog ICs*5 for power supply control that make electronic products more energy efficient. In the process, SFL contributes to the growth of a semiconductor industry that sustainably supports the foundations of society.
These businesses drive industrial and technological innovation, and through the contributions we make to building a healthy and comfortable society for all, we are working to improve the social value of our company.
*1

RGB: Red, green, and blue, the three primary colors

*2

A head-mounted, wearable device for virtual and augmented reality

*3

VR: Virtual reality; AR: Augmented reality

*4

Integrated circuits that send the electrical signals that operate LCDs and similar products

*5

Integrated circuits responsible for processing analog signals and controlling power supply and movement
< Electronic Devices > Sharp Fukuyama Semiconductor Co., Ltd. (SFS)
*1
To achieve Sharp's vision of changing the world with 8K+5G and AIoT, SFS is contributing to the advancement of Japan's semiconductor industry by creating specialized devices.
SFS*1 creates the various key devices that underpin Sharp's unique products. We currently develop and sell the devices and modules that are the technological infrastructure for 8K and AIoT.
8K technology is not simply limited to TV broadcasting. Because it handles an overwhelmingly large amount of data, there are other anticipated applications for it in various industrial fields, such as infrastructure maintenance, safety monitoring, and remote medicine. Moreover, sensors are an indispensable part to achieving an IoT society.
In addition to 1) LSI (8K SoC), needed for 8K image processing, and CMOS image sensors (8K CIS), the entry point for images, we have an assortment of products, including 2) various sensors (such as optical sensors), and 3) IoT modules.
1) CMOS image sensors (CIS) are semiconductor devices for capturing images and represent a key device of SFS. Used in all digital cameras, they are an important electronic device that is key to image quality. Sharp has a long history of developing, manufacturing, and selling image sensors. Incorporating the proprietary technologies and know-how built up over the years, these high-quality devices from SFS are used in numerous applications and add greater value in many realms of society.
2) SFS develops various sensors incorporating optoelectronics technology, such as proximity sensors, ToF sensors, and dust sensors. Two electronic devices widely used in familiar products are ToF sensors, found in refrigerators, humidifiers, and robotic vacuum cleaners, for example, and proximity sensors, used in products including smartphones and TWS*2 earbuds. With these sensors expected to be used in more and more areas of our daily lives, SFS continues its efforts to create a better society.
3) IoT modules can easily be incorporated into a wide range of products to give them IoT capabilities. Combined with different kinds of sensors, they can, for example, provide location information and equipment operational status information in industrial devices that are critical to management and control, and go into onboard equipment and security terminals. Integrated with 5G communications technologies, ultra-low standby power consumption technologies, and energy harvesting power sources, IoT modules can contribute to the realization of IoT services that ensure no electricity disruptions or stoppages in places where electricity is hard to procure.
These businesses drive industrial and technological innovation, and through the contributions we make to building a healthy and comfortable society for all, we are working to improve the social value of our company.
*1

Company name is current as of March 31, 2021

*2

TWS: True wireless stereo