R&D Initiative and the Development System
As "One Sharp" business innovation focused on "Changing the World with 8K+5G and AIoT*" continues, the Corporate Research and Development Business Unit is pursuing a mission to develop pioneering, groundbreaking, proprietary technology that creates new ecosystems and new and expanded businesses contributing to the realization of a sustainable society. We are particularly focused on integrating IoT with people, standardization, incubation, and connected industries in order to develop new technologies that will help address the challenges facing society and serve as a seed for future new business. In addition to the 8K + 5G Ecosystem and AIoT World, Sharp is accelerating the creation of new business, particularly in the fields of health, medicine, and nursing care, with a focus on B2B and solution business expansion for the sake of pioneering new applications and facilitating Sharp's entry into other industries.
*

AIoT is a word coined by Sharp, combining the words AI (artificial intelligence) and IoT (Internet of things). AIoT is a vision of how products and services will connect to artificial intelligence via the cloud and become a people-oriented existence. AIoT is a registered trademark of Sharp.
Priority Initiatives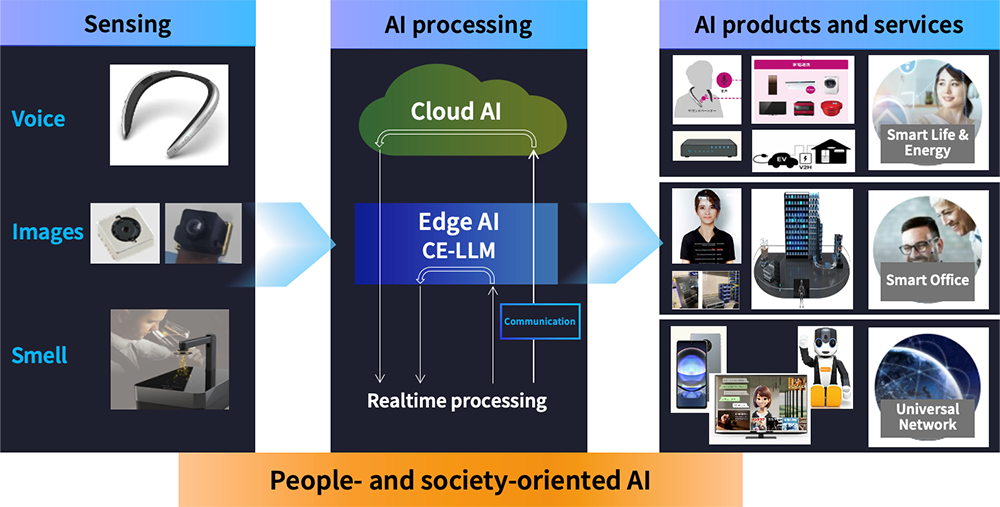 In the area of 8K+ 5G Ecosystem solutions development, Sharp is creating new platforms built from the knowledge and experience it has gained through various initiatives, including using drones to improve the efficiency of infrastructure inspection carried out by local governments; developing practical applications for 8K broadcasting utilizing 5G technology, such as obtaining situational assessments during disasters when manpower is limited; and carrying out research studies and verification testing of different applications intended to facilitate digital transformation of local government operations. In addition, Sharp has obtained more than 6,000 essential patents in over 50 countries relating to telecommunication standards, which include 5G, and it is developing business built around the licensing of these patents.
With the aim of building an AIoT World, Sharp is working on contactless vital sensing solutions capable of measuring a full range of vital indicators, including heart rate, blood pressure, respiratory rate, and surface temperature, without the need for touching the subject, thereby lowering the various risks associated with human contact. Sharp is also developing new logistics-related business via proprietary technological applications in the area of optimal temperature storage media, having already brought to market cold-retention materials enabling novel delivery systems capable of keeping fruits and vegetables at an optimal chill point of 12℃ and vaccines, pharmaceuticals, blood, biological samples, and cell cultures at an optimal chill point of 3℃.
In addition, as part of its growing business focused on supporting startups through open incubation, which was begun in 2016, Sharp has launched Product Quality.net to provide contracting services for everything from quality and reliability testing and analysis to improvement consulting, relying on an in-house and external network of resources. This will both strengthen the level of business development support that Sharp provides to startups, as well as accelerate collaboration between companies that will spur technological innovation.
Intellectual Property Protection
Intellectual Property Strategy and Management System
Sharp regards its intellectual property strategy as one of its critically important management strategies, and it is promoting it together with its business strategy and R&D strategy. By aggressively obtaining patents, Sharp is boosting the superiority of its product and device businesses and strengthening its business foundation. The company's intellectual property department was spun off into ScienBiziP Japan Co., Ltd. (SBPJ) in 2016, with a view to making it a profit center of Sharp. Because SBPJ is well versed in Sharp's products, technologies, and businesses, it can offer a high level of specialized service and improved efficiency. SBPJ gives Sharp more driving force in its intellectual property management, generating strong patents and economic value from Sharp's state-of-the-art technologies.
Regarding patent applications, Sharp defines core technology areas with respect to each business and strategically files patent applications that are tightly coupled with its business development. Sharp is also acquiring useful patents invented in cooperation with other companies or derived from the activities of alliances, such as industry-university cooperation. In addition, Sharp is filing applications and registering rights for designs and trademarks globally under its brand strategy.
Protecting Intellectual Property
Sharp maximizes the use of its intellectual property by linking it to its business strategy and R&D strategy. It is also firmly committed to protecting its own intellectual property rights, while also respecting the intellectual property rights of others. While Sharp takes an amicable approach to resolving issues of infringement, it is the company's policy to seek the judgment of a third party, such as the courts, when its intellectual property rights are not respected.
Sharp is also working to bolster protection for trade secrets and to prevent unauthorized disclosure of production technologies and manufacturing know-how, particularly those that are unique or critically important to Sharp. Further, counterfeit Sharp-brand products have had a growing impact in overseas markets in recent years, and Sharp is taking measures to counter these imitations through cooperation with industry groups and with regulatory authorities taking enforcement actions.