Promoting Occupational Safety and Health
Promoting Occupational Safety and Health
Sharp Group Basic Policies on Safety and Health
The Sharp Group regards protecting the safety, security, and health of employees all over the world as indispensable to its business activities, and is dedicating appropriate management resources in a spirit of Sincerity and Creativity, in order to achieve a safe and pleasant working environment.
Legislative Compliance
In addition to strict compliance with legislation related to safety and health in each country and region, all Group companies must comply with in-house standards established in line with the standard Group policy,
Establishment of Management Organization
The Sharp Group has established a management organization to deal with safety and health, with clearly delineated roles, authority, and responsibilities, and is promoting activities at the structural level.
Establishment and Operation of Management System
The Sharp Group has established an occupational safety and health management system, and is engaged in continuous evaluation and improvement of its activities, with a view to eliminating potential hazards and risks to safety and health in the workplace.
Implementation of Education and Training
The Sharp Group is endeavoring to raise awareness of safety and health and to promote voluntary activities by implementing for all employees the education and training required to improve safety and health.
Setting Targets and Full Employee Participation in Practical Activities
The Sharp Group sets targets for preventing accidents and improving employees' health, and is striving to meet these targets by means of practical activities in which all employees participate.
Organization Promoting Safety, Hygiene, and Health
Sharp works to ensure the safety and to maintain and improve the health of all of its employees, as well as further the creation of a pleasant working environment. Towards that end, it has developed a clear administrative responsibility system for preventing industrial accidents and improving occupational safety and health levels. Also, in order to show Sharp's commitment to maintaining and improving health, it calls the names of its organizations and activities "safety, hygiene, and health" instead of "safety and health" and has established the following organizational system for promoting safety, hygiene, and health.
In order to ensure that activities for the maintenance and improvement of safety, hygiene, and health go smoothly, Sharp holds Central Safety, Hygiene, and Health Committee meetings that bring the management and the labor union together to discuss and decide basic policies for the entire company. The Committee establishes annual company-wide policies, objectives, and priority action items related to safety, hygiene, and health and rolls them out to business sites and affiliated companies.
At each business site or affiliated company, the Safety, Hygiene, and Health Committee consisting of labor and management representatives, as well as chemical, electrical, and gas subcommittees, meets every month to report, discuss, and review safety, hygiene, and health activities. The discussion and decision outcomes are communicated to all employees through the various departments.
In addition, in order to establish comprehensive safety, hygiene, and health management on company premises, every month at each business site a Safety and Hygiene Council meeting is convened, which includes subcontractors permanently stationed on-site. This committee discusses safety, hygiene, and health-related policy, targets, and planning, shares updates about safety, hygiene, and health initiatives, and works to prevent industrial accidents.
Organization Promoting Safety, Hygiene, and Health

FY2020 Objectives
FY2020 Achievements
Self-Evaluation

Eliminate severe accidents, reduce industrial accidents
Prevent health problems caused by overwork

Severe accidents:

・Thoroughly enforced rules for working with hazardous and toxic materials to eliminate the occurrence of severe accidents

Number of industrial accidents (including cases without lost work time)

・By implementing priority measures for workplaces with many industrial accidents, 7.6% year-on-year reduction was achieved

Strengthened measures against long work hours

・Reduced the number of employees working long hours

・Had employees working long hours interviewed and guided by a physician

★★
Priority Objectives for Fiscal 2021

Eliminate severe accidents, reduce industrial accidents
Prevent health problems caused by overwork
Occupational Safety and Health Management System
Sharp has established an occupational safety and health management system and is promoting measures to ensure the further penetration and establishment of "proactive safety," an initiative under which potential workplace accident risks are identified in advance and eliminated or reduced.
Four of Sharp's major business sites in Japan have received ISO 45001 certification, and one has received OSHMS certification from the Japan Industrial Safety and Health Association (JISHA). Sharp has also established and is promoting occupational safety and health management systems at other workplaces and affiliated companies to promote systematic, organized, and continuous safety and health management and raise the level thereof.
Example of Company-Wide Effort to Eradicate Industrial Accidents (Promotional Posters)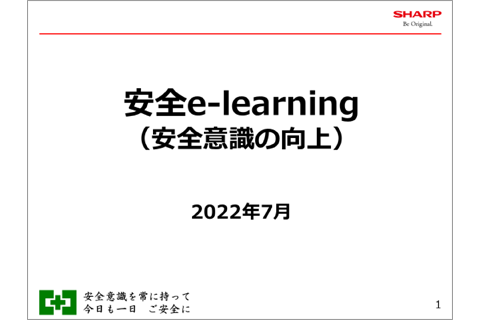 Initiatives to Reduce Industrial Accidents
At workplaces where there are many industrial accidents, Sharp is taking concentrated efforts to develop systems for safety and health education and pre-work meetings to eradicate unsafe behavior in accordance with the thorough implementation of measures by the senior management of each workplace. In addition, the entire company is working on measures to eradicate industrial accidents by preventing falls and crashes, strengthening danger-prevention activities, preventing traffic accidents, and prohibiting unsafe behavior.
As a result of these efforts, the Sharp Group's industrial accident rate (frequency rate of lost-worktime industrial accidents*1) in Japan in fiscal 2020 was 0.37, which was continuously lower than the national average for all industries (1.95), the manufacturing industry (1.21), and the electrical machinery, equipment, and supplies manufacturing industry (0.52). In addition, the Sharp Group has not experienced any fatalities since fiscal 2013.
Annual Industrial Accident Rates (Frequency Rate of Lost-Worktime Industrial Accidents)

*1

Indicator that represents the incidence of industrial accidents per million work hours (one day or more of suspended operations).

*2

National averages for all industries, the manufacturing industry, and manufacturers of electrical machinery, equipment, and supplies are based on a 2020 survey by the Japanese Ministry of Health, Labor, and Welfare.
Making Employees Healthier
Sharp is committed to making its employees healthier. Our activities include providing workplace physician interviews and health guidance to employees who are overweight or who have lifestyle diseases. Employees are given specific guidance based on their health check results. The company offers support to those who want to quit smoking, and it has made all company buildings smoke-free. We also encourage regular exercise through a competitive walking campaign among workplaces, which runs via a health-promotion smartphone app.
Enhancing Mental Health Care
Sharp uses its employee stress check system, which is required under the Japanese law, to let employees realize their level of exposure to stress. The system is expected to lead to the prevention, early detection, and early treatment of mental health issues. Stress check results are also analyzed for each organization, so that we can improve the workplace environment.
Sharp also offers comprehensive mental health services to employees, including counseling with mental health doctors and workplace counselors at business sites and counseling at outside specialized institutions. Mental health information is also made available to employees on the intranet.
Our return-to-work support program also demonstrates our commitment to supporting reinstatement after absence and prevention of a recurrence of mental health issues. Employees returning to work will have a preliminary talk with the workplace physician and their department, and they can choose to return to work on a trial basis and work shorter or flexible hours.
Measures to Prevent Employees' Mental Disorders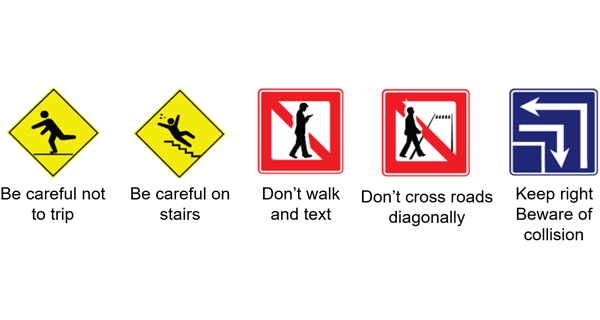 Preventing Health Problems Caused by Overwork
Sharp is working to prevent health problems caused by overwork, including efforts to curb long working hours, so that all employees can work in full physical and mental health.
Specifically, in order to limit the amount of overtime work, Sharp has set upper limits on working long hours and has designated days on which no overtime is allowed. Other measures which Sharp utilizes are established break times during working hours and mandating physician consultation and guidance for employees working long hours.
The total hours actually worked by Sharp Corporation general staff were 1,819 hours per employee in fiscal 2020, and annual overtime work hours per employee were 114 hours.
Measures Related to Work Hours
Description
Upper limits on overtime work

A general staff member may work overtime (1) for not more than 80 hours per month and (2) for not more than 720 hours per year
A manager may work overtime (1) for less than 100 hours per month to the extent that (2) overtime above 80 hours per month is limited to two consecutive months and that (3) the average overtime per month for the past six months is not more than 80 hours

No overtime days

Two no overtime days are set per week

Rules to secure rest time

Seven consecutive workdays are prohibited
At least 10 hours of rest time should be secured between the end of one work period and the start of the next

Encouragement for scheduled annual paid leave

Employees are encouraged to schedule and take their annual paid leave
(In fiscal 2020, general staff at Sharp Corporation took 75.9% of their annual paid leave.)

Criteria for mandatory physician consultation and Guidance

All employees whose overtime above the weekly limit of 40 hours has exceeded 80 hours in the given month must receive physician consultation and guidance
Protecting Employees from Covid-19
Protecting the health of employees, their families, customers, business partners, and all other stakeholders is the number one priority for Sharp. Towards that end we work with relevant organizations to prevent the spread of infection. Sharp undertakes careful measures developed in line with governmental policy and the conditions at each base in Japan to prevent the spread of Covid-19 while ensuring the continuation of business activities.
Primary Measures Taken by Sharp Corporation and Its Affiliates in Japan
*
Initiatives
Description
Telework and other initiatives aimed at preventing the spread of infection

Each business unit undertakes measures at its own discretion and based on such considerations as the surrounding traffic infrastructure, the workplace physical environment, employees, job categories, and job duties

< Examples >

Teleworking
Flexible working options (e.g., flextime and staggered work hours to avoid commuting during rush hours; having employees go straight to and return home directly from their business destinations)
Changing commuting modes (changing from public transportation to cars or other modes)
Having employees who may be infected (e.g., have an elevated temperature based on a temperature check before coming to work or who have cold symptoms) stay at home
Having employees with family members suspected or confirmed to be infected stay at home
Workplace entrance temperature checks (and denying entry to anyone with an elevated temperature; the same applies to visitors)
Distributing masks to employees
Requiring employees to wear masks
Enforcing hand washing and disinfection (putting sanitizing solution at building entrances/exits, in bathrooms, hallways, etc.)
Regular disinfection of contact surfaces inside buildings (doorknobs, elevator buttons, etc.)
Enforcing physical distancing and coughing etiquette
Suspending the requirement for in-person meetings and holding online meetings instead, from the standpoint of preventing infection and reducing contact
Spacing out seating and installing partitions in rooms
Installing Plasmacluster ion generators in rooms, meeting areas, etc.

Other infection risk reduction measures

As a rule, banning overseas and domestic business trips
Suspending in-house and external events, get-togethers, etc.
Staggering cafeteria meal times, installing seating partitions, discouraging talking while eating, etc.

Handling of infections occurring within the Sharp Group

If someone at one of Sharp Group's bases becomes infected, we will work with the appropriate public health authorities and swiftly implement the following.

Confirm where the infected person has been and investigate and identify who they have been in close contact with
Disinfect the areas in the base where the person has been
If the infected person lives in a dormitory or other such communal housing, quarantine him or her from other occupants, etc.

Public notification is put up on the company website whenever there is an infection at a Sharp Group base in Japan.
*

These are measures implemented in April 2020 to June 2021, and they are changing according to Japan's infection situation and the circumstances of each site.