MX-C300W
Easy Wireless Connections Bring
Unprecedented Flexibility
Stylishly compact and designed for high performance, the MX-C300W offers built-in wireless LAN connectivity, making it easy to put this four-in-one colour MFP to work in a variety of settings. The MX-C300W can connect wirelessly to any notebook PC, smartphone, and tablet that has wireless LAN connectivity. This lets users conveniently initiate MFP printing and scanning via their mobile devices from almost anywhere in the workplace and also allows ?exible placement of the MFP.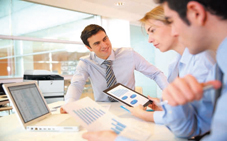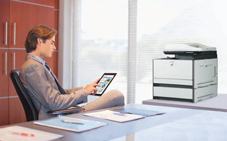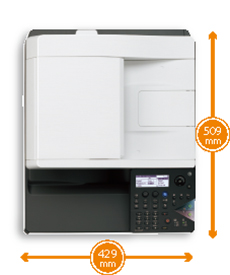 Wireless Capability
The MX-C300W offers ultra-handy wireless access via two easy modes: infrastructure mode and access point mode. These two modes enable the MFP to accommodate various user-environment factors, such as installation location and the type of LAN available.

Infrastructure mode wirelessly connects the MFP to notebook PCs and other mobile devices via a commercially available wireless LAN router. This ensures convenient access to the MFP even from places where wired LAN is not available.

Access point mode wirelessly connects a LAN-wired MFP to notebook PCs and other mobile devices without going through a wireless LAN router. The MFP can be accessed via both a wired connection and a wireless connection.
Note: External networks cannot be accessed via the MFP. Up to ?ve mobile devices can be wirelessly connected to the MFP at the same time.
Sharpdesk Mobile—Keeping Pace with the Way You Work
As document demands increasingly move from out behind the desk to wherever business takes you, Sharpdesk Mobile—an easy-access mobile print/scan application that connects Sharp MFPs to popular mobile devices via a wireless LAN connection—can help you keep pace. Documents scanned on a Sharp MFP can be sent to a mobile device to preview and save. And documents saved on a mobile device can be printed out on the MFP, sent as e-mail attachments, or used in other applications. By combining the efficiency of Sharp MFPs and the convenience of mobile devices, Sharpdesk Mobile is adapting document usage to today's changing work styles.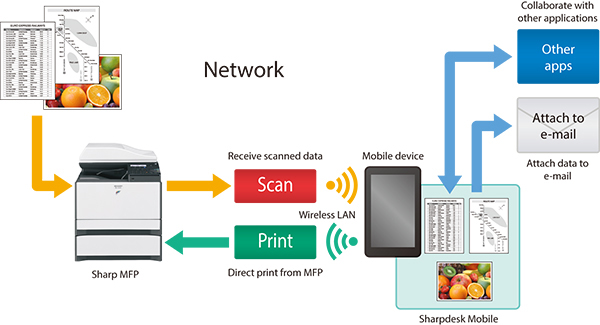 Easy-To-Use Control Panel

Business Card Scanning
This function enables commercially available business card scan software to create business card databases.