Sustainability Report 2021 Download
Sustainability Report 2021
The Sharp Sustainability Report 2021 reports on Sharp's CSR efforts, which contribute to creating a sustainable society. Information on Sharp's activities in fiscal 2020 is disclosed in three sections—titled Environmental Initiatives, Social Initiatives and Governance—which are accompanied by a variety of relevant data.
■ The following corrections were made as of March 8, 2022.
・p.43 "Utilizing Renewable Energy"

6.43 million kWh → 5.81 million kWh
・p.71 "Material Balance" Input, Fiscal Year 2020

- Energy

:17,211 TJ → 17,205 TJ

- Renewable energy

:12 million kWh →11 million kWh

- Hot water, cold water, steam

:130 TJ → 235 TJ
Independent Assurance Report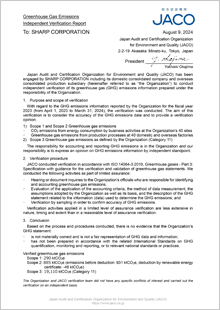 Policy for Information Disclosure
Non- Financial Information (ESG Information)
Sustainability Report
Green Procurement
CSR Procurement
For Suppliers
Environmental Information
etc.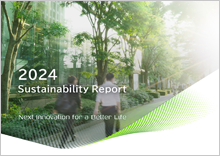 ESG Information
(Excerpt)
Financial / Non-Financial Information
Annual Report
(Integrated Report)
Consolidated Financial Results
Fact Book
Corporate Governance
etc.
Fiscal 2020 (April 2020 to March 2021)
However, some actual facts prior to and after this period, as well as subsequent policies, objectives, and plans, are also included.
Sharp Corporation, along with its domestic and overseas subsidiaries and affiliates.
Scheduled Publication Date for Next Report:
November 2022 (published annually since 1999)
Environmental Initiatives at Sharp Plants
Procurement Development Division, Corporate Procurement Unit, Corporate Strategic Planning and Control Group, Sharp Corporation
ssr-info@sharp.co.jp