DX-2500N/2000U
Isn't It Time to Upgrade Your
Communications with an Affordable
A3 Colour Solution?
The DX-2500N/2000U is ideal for small offices and for departmental use in large companies. Customers looking to install their first MFP or to upgrade from a B/W model will find the full-colour DX-2500N/2000U an excellent choice. This affordable A3 solution performs essential document functions?copy, print, and scan?with ease and can accommodate a range of options for customised expansion as your business grows.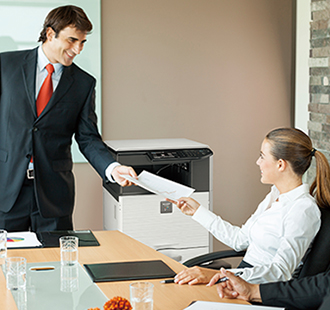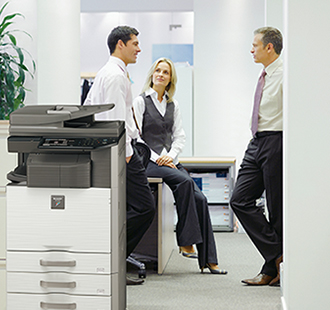 Enhanced Scanning and Copying
The DX-2500N/2000U comes standard with Auto Colour Mode to deliver high-quality copies and scans from documents that contain not only text but also photos and maps. Here's how it works: Auto Colour Selection automatically determines whether a page is colour or B/W. Page contents are then analysed to distinguish between different components, such as photos and text, and the appropriate copy/scan mode is selected. Finally, Background Suppression automatically removes unnecessary background colour.

User-Friendly Control Panel
The DX-2500N/2000U is equipped with a 7.0-inch WVGA touchscreen colour LCD that provides easy navigation of MFP functions and settings. Displaying thumbnails* and up-close previews* of Document Filing* data files on the MFP's LCD makes file searching easy and convenient. It also lets users confirm scan settings and other items before copying, scanning, or saving documents to the MFP's hard disk*. Thumbnails and previews of incoming faxes can also be displayed on the LCD to help users decide which documents to print out or forward.
* Requires optional MX-EB17.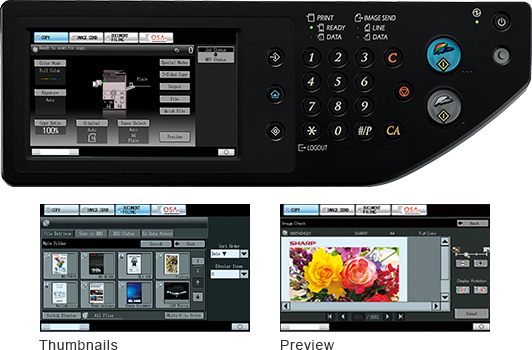 Multiple Distribution of Scanned Files
You can choose different ways to distribute your scanned documents: for example, send as an e-mail attachment, scan directly to an FTP server for storage, or scan to external memory.

*1 Standard on DX-2500N, optional for DX-2000U.
*2 Optional for DX-2500N and DX-2000U.
*3 Paper thicker than 220 g/m2 must be fed through multi-bypass tray.
*4 Requires optional MX-LT10.
*5 Requires optional MX-EB17.
*6 Requires optional MX-EB17 and MX-AMX2 and/or MX-AMX3.
*7 Availability varies by country/region.
*8 Requires optional MX-EB17 and MX-FX11 and/or MX-FWX1.